The Next Generation
Reach out and Engage the Next generation of Electrical Workers (RENEW) is a group that was formed for our young members to become activists not only within our Local Union but in the community as well. The Young Members Group is moving forward within our Local as Justin Cooper and Committee directs the younger generation towards understanding this is as much their Union as it is the rest of us.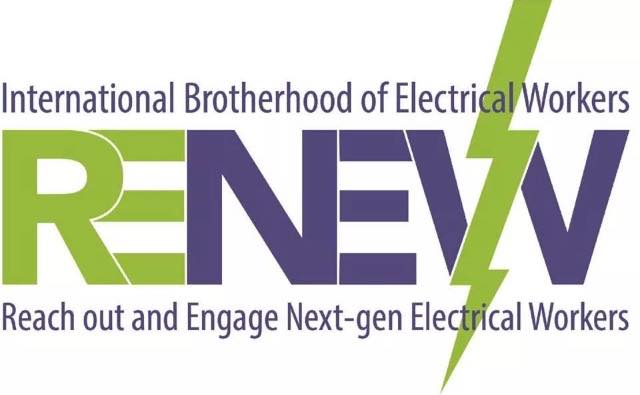 RENEW Mission
Our mission here at 479 RENEW is to promote the general welfare of our next generation of electrical workers, inspire community activism and to foster a suitable environment to mold and mentor our young leaders within our IBEW Local Union 479.
Through building community coalitions with other non-profit organizations such as Habitat for Humanity as well as various city governments throughout our jurisdiction we have successfully put ourselves in public view as servants to the greater good of all.
479 RENEW is the voice and strength of the next generation of electrical workers. Our feet are firmly planted and our collective direction is clear. We are not the future of the labor movement. We are the labor movement.
Officers
Evan Penisson – Chairman
Jeff Griffin – Co-Chairman
Britt Simoneaux – Secretary Treasurer
Taylor Rainwater – Recording Secretary
Phillip Messer – Secretary of Social Media
RENEW is the future. We are the future leaders and decision makers of IBEW LU 479. We are what our local will be.

Phillip Messer

RENEW Military Veterans Advisory Council

I stand firm as we unite, regardless of my background , color or creed to enlighten the next generation of IBEW local 479 of the privages, benefits, and opportunities by totally being involved with my local brothers and sisters.

Brandon McDonald

RENEW Officer

For me it's inspiring to see young people out trying to make a difference, putting in time and effort outside of their lives to help others that's unity. That's brotherhood.

Anthony Rodriguez

Secretary of Social Media

Our purpose is to engage the next generation of electrical worker and to further the next class of leaders in our local union.

Dillon Sharp

IBEW 479 RENEW Recording Secretary

We are about lifting Apprentices up and making sure they are getting well rounded training in there craft while bridging the age gap from Journeyman to Apprentice mentorship.

Chad Morphew

IBEW 479 RENEW Secretary Treasure