Friday, October 30th
NO Calls
Thursday's calls went to #85 on Book 1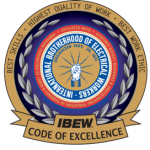 If You Have Taken Code Of Excellence & Have Not Received Your Card Please Call Up To The Union Hall.
Book 1 & 2 day sheets go out at 7:00 a.m.. Roll call for Book 1 will be at 7:30 a.m., with roll call for book 2 immediately following.
All Newtron calls require background checks that take a minimum of 48 hours.
To accept any call you must have a Texas Journeyman state license or a Texas Apprentice state license.