Monday, April 6th
2 JW's for Jefferson Electric at the shop with Justin Fredricks working 5/8's. Drug Screen, Background Check, Valid Drivers License, Clean Driving Record & Texas JW License. (1) JW must have Residential & Commercial Experience, (1) JW must have Commercial Experience.
Temporary Referral Procedure
When job call is posted,if interested in a job, call (409) 833-8252 ext. 205 and leave name, card number & phone number before 7:00 am the next morning. At 7:00 am we will begin putting all interested persons in the order in which they are on "Out Of Work" list and at 7:30 am we will begin calling from that list until job call is filled. Once you have accepted the referral you will be directed to the contractors shop. We will fax referral slip to contractor to be filled out and sent back.
Local 479 has been, and is continuing, to monitor the evolving situation with regard to the Covid-19. We are committed to the health and saftey of our members, staff, officers and public at large.
As of 3/19/2020 THE UNION HALL DOORS WILL BE LOCKED ( CLOSED TO FOOT TRAFFIC) DUE TO SELF QUARANTINE.
All business must be done by mail, phone (409-833-8252) or online IBEW479.com
Dues Payments can be made by mail, phone or online (ibew479.com click PAY DUES)
If you have Pension or Annuity business please call Tammy (409-212-1215)
If you are wanting to sign the books please email Danny at 479resign@ibew479.com or call (409) 540-2622 Between 7:00 am & 4:30 pm. We will verify the request and you will receive a confirmation email.
THE APRIL UNION MEETING HAS BEEN CANCELLED.
We appreciate your cooperation as we work through this unique situation.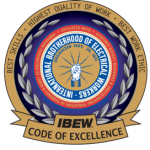 If You Have Taken Code Of Excellence & Have Not Received Your Card Please Call Up To The Union Hall.
Book 1 & 2 day sheets go out at 7:00 a.m.. Roll call for Book 1 will be at 7:30 a.m., with roll call for book 2 immediately following.
All Newtron calls require background checks that take a minimum of 48 hours.
To accept any call you must have a Texas Journeyman state license or a Texas Apprentice state license.