Monday, June 1st
1 JW for Minton Electric at the shop with Billy Minton working 5/8's. Drug Screen, Valid Drivers License, Texas JW License & Residential experience is required.
Local 479 has been, and is continuing, to monitor the evolving situation with regard to the Covid-19. We are committed to the health and saftey of our members, staff, officers and public at large.
The Union Hall is now open to limited foot traffic and we are back to normal referral and book signing procedures. Our current safety protocols are posted at entry doors and on our facebook page.
At the advice of the International Offices, the June Union Meeting is canceled.
We appreciate your cooperation as we work through this unique situation.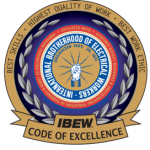 If You Have Taken Code Of Excellence & Have Not Received Your Card Please Call Up To The Union Hall.
Book 1 & 2 day sheets go out at 7:00 a.m.. Roll call for Book 1 will be at 7:30 a.m., with roll call for book 2 immediately following.
All Newtron calls require background checks that take a minimum of 48 hours.
To accept any call you must have a Texas Journeyman state license or a Texas Apprentice state license.