Wednesday, Sept. 29th
6 JW's for Newtron at Valero with Perry Viator working 5/10's. Drug Screen, Background Check, Fit for Duty, Hair Follicle, TWIC & No Beards.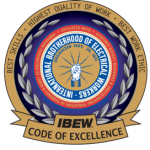 Notice to Members: If you are planning to go out of town to work, please call or come by the hall to make sure that you are signed up on ERTS. If you are not on the ERTS system, your benefits will not be sent back home. This includes your insurance hours.
If You Have Taken Code Of Excellence & Have Not Received Your Card Please Call Up To The Union Hall.
Book 1 & 2 day sheets go out at 7:00 a.m.. Roll call for Book 1 will be at 7:30 a.m., with roll call for book 2 immediately following.
All Newtron calls require background checks that take a minimum of 48 hours.
To accept any call you must have a Texas Journeyman state license or a Texas Apprentice state license.