Monday April 22
THE UNION HALL WILL BE CLOSED FRIDAY APRIL 19 FOR GOOD FRIDAY. I HOPE EVERYONE HAS A HAPPY EASTER!
1 JW For Newtron Electrical Services At Exxon/Mobil Down Town With Justin Taylor Working 6 10s. This Is Commercial Work. 6:30 Start 2 Weeks Possibly Longer. Drug Screen, Back Ground, Fit For Duty, Valid DL & Texas State JW License.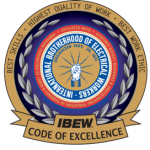 If You Have Taken Code Of Excellence & Have Not Received Your Card Please Call Up To The Union Hall.
Book 1 & 2 day sheets go out at 7:00 a.m.. Roll call for Book 1 will be at 7:30 a.m., with roll call for book 2 immediately following.
All Newtron calls require background checks that take a minimum of 48 hours.
To accept any call you must have a Texas Journeyman state license or a Texas Apprentice state license.